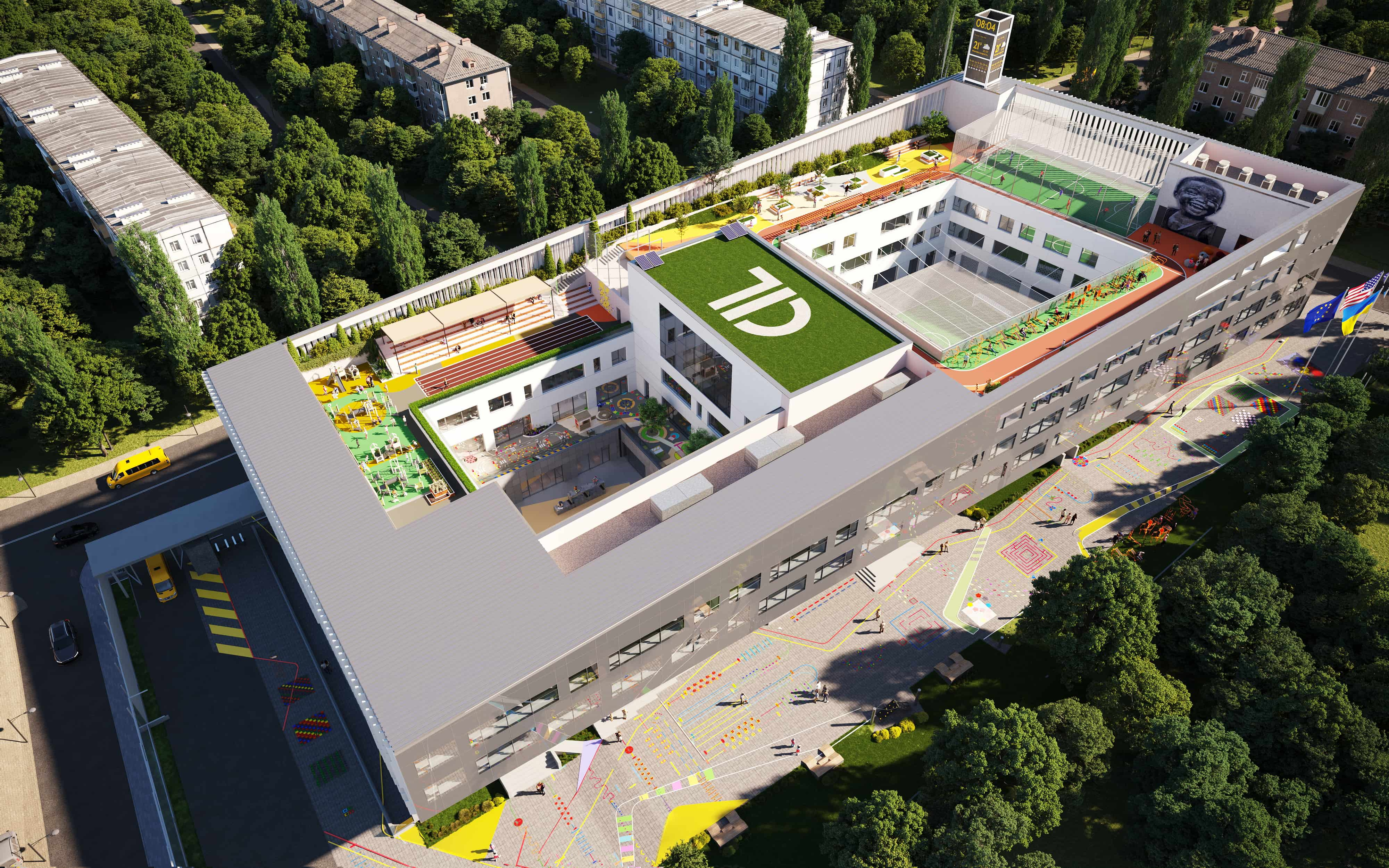 Interior
Brookes CIL International School
Location
Dzhona Makkeina Str, Kyiv, Ukraine
Status
On Site
Sectors
Education
Area
25 000 m²
Year
2022
Client
ENSO
Site
www.cil.brookes.org
The architectural build of Brookes CIL International School was sparked by the idea of creating a safe and secure school environment void of outside distractions from urban environment and the noise of the city.
Built with purpose to foster dynamic, supportive and calm learning spaces, Brookes CIL is oriented inward towards a world of play and knowledge where two social courtyards form at the core of the school.
All classrooms are oriented towards either an inner patio or tranquil sunny outdoor space connected to the inner courtyards.
The building has a three-part composition.
The central volume is the atrium. The central atrium along with two courtyards was conceived with the idea this space would be central to life at Brookes CIL. This area acts as a main entrance for students, a large multifunctional space, a place for informal meetings, lessons in large groups, etc. This exciting space brings the school community together.
The left wing of the building, located near the school transport hub, is designated to our administrative function. Here we have designed a separate entrance for parents, as well as a two-level medical center with the possibility of access for emergency vehicles.
The right wing of the building is designed for lower primary students and houses a separate entrance.
The Primary, Middle and High Schools are located on the three main educational levels of the building. The building reflects the growth philosophy of the school where the youngest children are settled downstairs and progress upwards by age group.
To ensure the safety of students along the perimeter of the school, a fence is provided with a height of 4.5 m. Three entrance groups with turnstiles and security posts provide students and their parents with safe access to the school campus.

A transport hub for school buses has been designed along the west wing of the building. Access to the school is organized from three streets, which will ensure maximum flexibility for both pedestrian and transport access to the school.

Zones of sports grounds, recreation and playgrounds are represented by a wide variety both in the courtyards and on the wide playground with a green lawn and grove, as well as on the exploited roof.